LEEA stages a packed Global Lifting Awareness Day programme
19th July 2022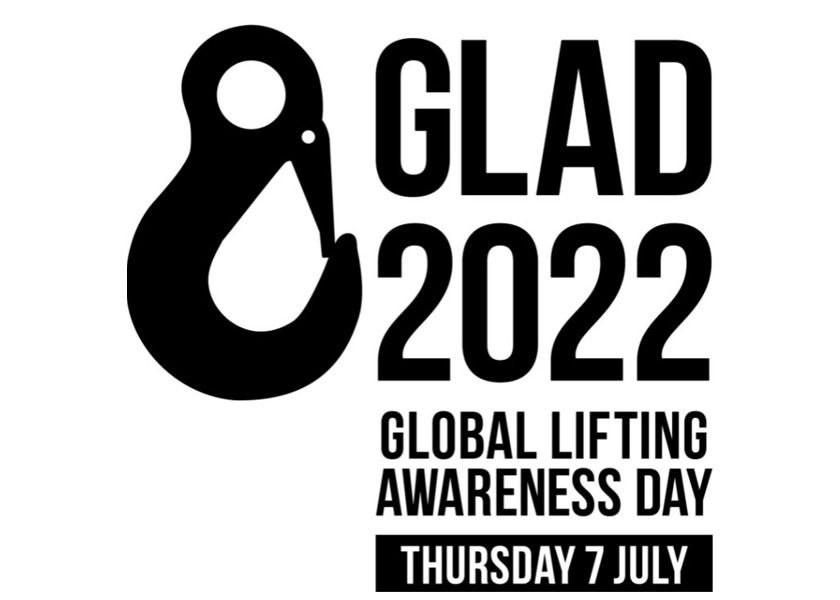 Social media was awash with the hashtag #GLAD2022 when the third annual Global Lifting Awareness Day 2022 took place on 7 July 2022, aimed at raising awareness of the importance that lifting has across all industries and in everyday lives.
Contributions and messages were made by those with an interest in lifting around the world including, of course, LEEA and its members. The Association's packed schedule of new programme launches and informative presentations ran throughout GLAD, kicking off with the Entertainment Sector webinar – the second in a series of LEEA webinars addressing broader end user industries, held this year.
Without lifting the Entertainment Industry would grind to a halt: theatre, television and film sets would not be moved, lighting rigs for live concerts would remain on the stage instead of above it. Informative presentations from the LEEA team accompanied by Entertainment Sector specialists discussed legislative framework, updates on upcoming standards, sector specific news, challenges and more.
Paul Fulcher, Managing Director, Rigging Services, spoke on post-covid rigging training requirements for new recruits working in the Entertainment sector. Matthew Wheeler - Rigging Compliance Supervisor, National Theatre, London, provided fascinating insight into how lifting equipment fits into the entertainment picture with a discussion titled: 'Design Artistic Needs And Lifting equipment'.
Following on from these industry representatives, Keith Tonge of LEEA's Technical Services Team, looked at the relevant standards for this sector. Dave Tucker, Senior Training Specialist at LEEA, concluded the webinar by summarising key end user guidance points.
Learning and development
The LEEA Academy 2.0 delivery by Nucleus Learning received its launch with a presentation by Nucleus Learning CEO, Tom Newton, who has developed this exciting new training platform for and on behalf of LEEA. The new state-of-the-art Learner Management System is available in English, Bahasa, Simplified Chinese, Brazilian Portuguese and Arabic. This was followed by a look at how LEEA's training has involved and continues to develop into the future.
Ross Moloney, CEO of LEEA and Sarah Chew, Managing Director of TechFest, discussed the collaborative school engagement drive planned for LiftEx 2022. TechFest's goal is to promote STEM areas of Science, Technology, Engineering and maths, filling the gap between School and industry and opening up children to learning opportunities such as LiftEx, where they can see the industry at its best.
Senior pupils with an interest in learning more about the huge range of opportunities available to them in the lifting industry are invited to come along and learn more, engage with industry professionals and interact with global companies and organisations at the LiftEx Industry Career Day on 6 October at LiftEx in Aberdeen.
Students attending this one-day event will come away with greater confidence having had the opportunity to utilise their metaskills on things like problem solving and creativity as well as meeting people who do these things in their jobs. There will also be advice on practical aspects such as improving CVs. LEEA will be working with its members and students can get involved by making an application on the TechFest website at https://techfest.org.uk/news-events/upcoming-events-new/event/154-liftex. We are excited to see schools, colleges and pupils on 6 October at the LiftEx Industry Career Day
GLAD2022 was the fitting occasion to launch LEEA's new End User Guidance course (EUG) and Introduction to Lifting Equipment Course (ILE). EUG is now available on our website, accessible to all, at https://leeaint.com/presentation/end-user-guidance-cpd-course.
ILE will provide an introduction to lifting equipment to any individual regardless of previous experience and existing knowledge, ILE will be available to LEEA members in the 'Members area' & https://leeaint.com/open-learning.
Technical matters
Ben Dobbs, Head of LEEA Technical Services, and his team are responsible for LEEA's interpretations of standards and legislation worldwide. Ben delivered a webinar on the impact of the revision of the European Machinery Directive 2006/42/EC – one of the major pieces of legislation that LEEA is involved with.
In his presentation on 'Considering the future of our Energy Industries', Neil Golding, Director of Market Intelligence at the Energy Industries Council, provided a timely and fascinating review of the energy landscape and its impact on projects
Improving safety awareness was another significant aim of the day's itinerary. To improve the general understanding over one trip single use slings and therefore safe practice, LEEA premiered two short videos from Bernie Winter of the Association's Technical Team, which covered the basics of one trip slings and their safe use.
The common Lifting Industry problem of dropped objects was the subject of a presentation delivered by Allen Smith of DROPS (Dropped Object Prevention Scheme). It focused on a common approach to solving this important issue for the Lifting Industry.
The Association's GLAD activities concluded with the final presentation from LEEA's Robert (Rory) Rorison. He explained why it's so important that critical information, guidance and best practices are effectively communicated throughout an organisation to ensure it reaches the right people.
Ross Moloney, CEO of LEEA said: "I wish to thank everyone who participated by producing content or simply using the hashtag #GLAD2022 to raise awareness of the Lifting Industry. I am very proud of the significant launches and insight LEEA was able to offer to the day. The positive reaction from the global lifting industry has firmly established this annual event, so we look forward to welcoming you all back for next year's Global Lifting Awareness Day."
Videos of the LEEA GLAD presentations can be found on the Open Learning section of LEEA's website https://leeaint.com/open-learning and the GLAD website video section https://globalliftingawarenessday.com/videos #GLAD2022.