GLAD reflections
3rd August 2020
GLAD reflections
On 9 July 2020 the global Lifting Sector took to social media in their droves to post messages with the #GLAD2020 hashtag. The first ever Global Lifting Awareness Day scheme turned out to be a phenomenal success.
Throughout the day companies and individuals around the world posted and shared across social media platforms such as Twitter, Facebook and LinkedIn with the goal of engaging with as many people as possible, joining together in conversation through the hashtag #GLAD2020.
Across the social media platforms of Facebook, Twitter, LinkedIn and Instagram there were 925 individual and original mentions of #GLAD2020 between 6-12 July, with 631 of them being on the 9 July itself. Looking at Twitter across a slightly broader timescale, between 4-13 July, the #GLAD2020 hashtag appeared in over 840 tweets from 180 contributors – which has a potential reach of over 261,000 and potential impact on 1.65 million people.
Ross Moloney, CEO at LEEA, called it "a very important day for the global Lifting Industry". He continued: "All too often our industry is hidden, ignored or unrecognised by end users and certainly by some of the supply chains that we serve. Global Lifting Awareness Day is about getting the whole industry and the associated supply chains to recognise the importance of high standards in lifting, the significance of quality and how to ensure lifting best practice.
The other drivers behind the initiative were Industry media representatives, Lift & Hoist International (LHI) magazine and Bridger Howes, the leading public relations consultancy representing many high profile clients in the industry. Ross Moloney added: "Guy Harris, publisher, LHI and Mark Bridger, director, Bridger Howes, have brought this project to life, after coming together to discuss how to raise awareness of our sector and of high standards."
On Twitter, Bridger Howes asked: "Do we want #GLAD2020 to become an annual thing? Absolutely." The announcement soon came via another GLAD driver, LHI Magazine, that the event would become an annual fixture, with #GLAD2012 being held on 8 July 2021.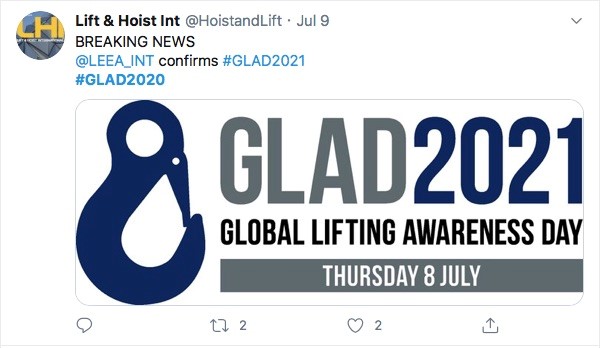 The day's international flavour was particularly evident on Linkedin. Moheb Botros, QHSE lead senior lifting inspector and NPORS at Al Sarooj Safety Service in Oman reminded people that "lifting is not a routine job, it is a life-saving practice that maintains every person's safety during any lifting operations, always maintain safe practices during using any lifting equipment in any work site. Happy Global Lifting Awareness Day 2020".
Christina Lanham, Managing Director, ITI UK at Industrial Training International said: "Being part of the lifting industry has truly changed my life. In the last year I relocated from the US to the UK to start up a new office for Industrial Training International. I travelled to Germany, Austria, Italy, Belgium and Sweden to participate in lifting events as well as met with lifting professionals in every corner of the UK. People working in the entertainment sector, construction, manufacturing, aerospace to power generation– lifting equipment and personnel transcends so many work sectors."
In a global sector, such as lifting, as the day dawns in New Zealand and sets in Alaska it is actually the equivalent of two whole days worth of social media messaging. Remember, lifting takes place everywhere between these extremities of our world.
"Today we are excited to celebrate #GLAD2020 as our industry is recognized for its importance in lifting up the supply chains of the world!" tweeted MHS Crane.
"Where would your operation be without lifting equipment?" asked OZ Lifting Products. Street Crane tweeted: "STOP and LOOK around you. Most of what you see required lifting at some point. Every day we are engineering lifting solutions for all types of businesses across every sector imaginable."
The lifting trade media responded in force. Lift & Hoist International said: "We applaud lifting equipment companies for introducing #GLAD2020 to their end user contacts." Heavy Lift & Project Forwarding International acknowledged "the hard work of the industry, whose commitment to best practices, innovation and collaboration keeps supply chains moving". Hoist Magazine said: "Overhead lifting technology, particularly in logistics and manufacturing operations, is often installed inside facilities and therefore out of the public eye. Initiatives such as #GLAD2020 can help our industry promote itself as the indispensable sector it really is". Cranes Today tweeted: "It's Global Lifting Awareness Day! The lifting industry is full of talented, hard-working, innovative professionals. More people should get to know about the tremendous work being done across this industry's different segments."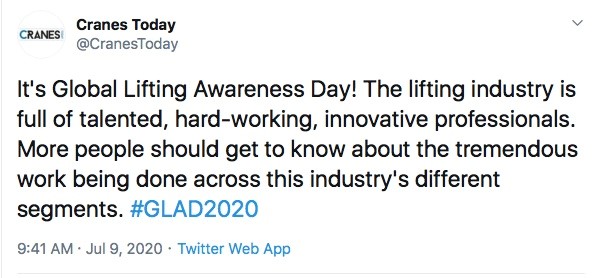 The diversity of the sector was further illustrated by industry journal Crane & Hoist Canada, tweeting about an article: "From Hollywood to the History channel, Matt Jones tells us how cranes give TV and movies a lift". The magazine also introduced an interesting point about the role of lifting in construction; "Toronto is still a "young" city and has many areas under development compared to other metropolises. No wonder it has the most active cranes in North America for the second year in a row. Canadians can definitely be #GLAD2020 about that."
Also from the media, Wire Rope Exchange noted that the COPSULE (Code of Practice for Safe Use of Lifting Equipment) is just one way LEEA promotes higher standards in lifting and rigging. There was a nice personal testimony also.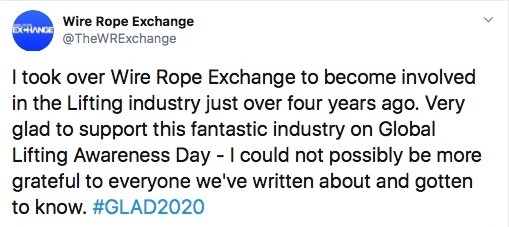 LEEA's vision is to promote enhanced standards and sustainable development for the worldwide Lifting and Safety industry so the association asked its team to talk about what the day means for them. The result was a series of informative contributions throughout the day. Deputy CEO, Andrew Wright, revealed how LEEA has adapted during this unusual time through lockdown. Head of Member Engagement, Robert Wilson talked about how LEEA is truly global as he helps members worldwide. Events Coordinator Katherine Wright discussed how LEEA is addressing recruitment in the Lifting Industry and pointed out that the Think Lifting videos, available for download, now include the original Think Lifting video with Arabic subtitles. LEEA Technical Manager, Ben Dobbs explained the how the association developed its Technical Triage system, providing technical advice and documenting queries for easy reference.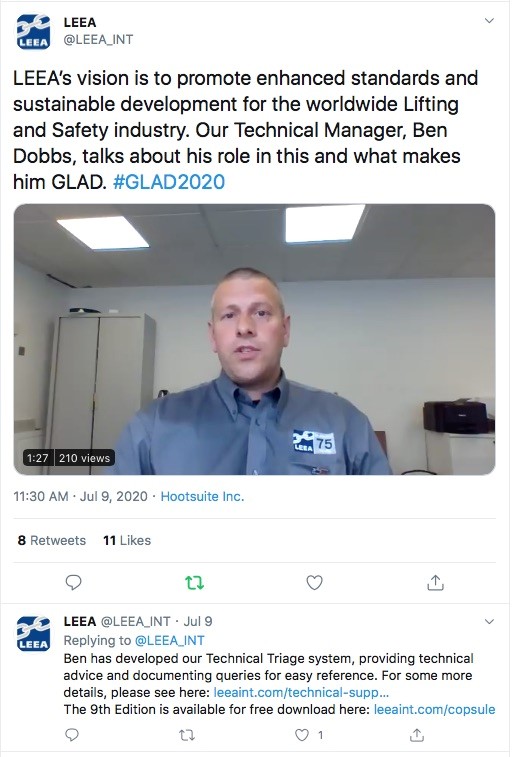 LEEA also organised a 'Publications Giveaway', offering a chance to win four LEEA publications. It was also great to see Jonathan Djanogly, Member of Parliament for the Huntingdon Constituency – home to LEEA's offices and training centre joining in and sending his support for #GLAD2020.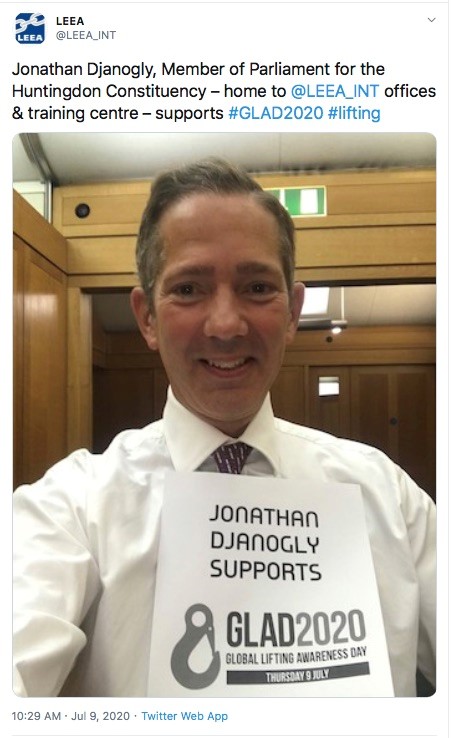 Other trade associations such as AWRF and RTITB, joined in with reminders to recognise the importance of high standards.
Taking place amidst an era of social distancing #GLAD2020 also had its positive social effects as Rope and Sling tweeted: "A bonus of supporting #GLAD2020 has been the new people we've met." LHI Magazine said: "Consider what our industry has done to keep hospitals and our economies running in recent months." Bridger Howes commented on a more established challenge: "Inescapably, the lifting industry has a recruitment problem. It's one thing the #GLAD2020 movement is looking to change."

This theme was picked up by Sparrows Group: "In celebration of Global Lifting Awareness Day, we're looking at the career path of one of our next generation of crane operators. Lifting has been the heart of what we've done for more than 45 years and it underpins many industries globally."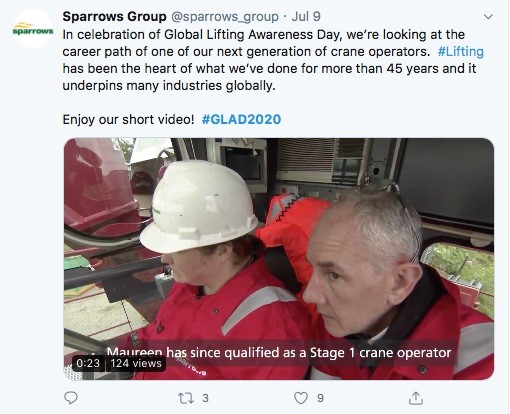 Gemma Morris, sales executive at Lifting Equipment Store, exemplifies the spirit of #GLAD2020 with her personal testimony. Gemma posted: "Lifting has been my passion for over eight years since I started in the industry at just 17. Being in the lifting game as a young lady wasn't easy but it has built me to be who and what I know today. It has had many ups and a few downs but I wouldn't change a thing about it. The amazing people I have met along the way and knowledge I have gained and passed on to my customers is priceless. Couldn't ask to be in a better team as I am today at the Lifting Store. As the quote goes 'pleasure and knowledge in the job puts perfection into the work'. It's down too us in the industry to spread the importance to all the users of high quality lifting practice."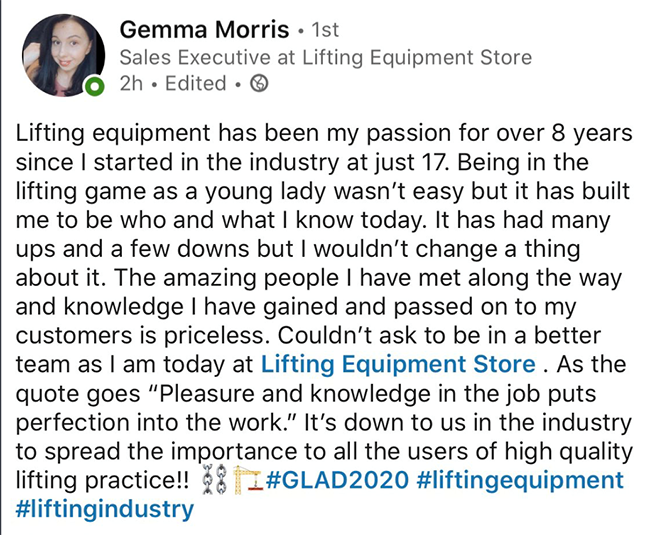 Ranger Lifting noted: "We have an industry here that young people would want to join—they just don't know about it". Kate Hearn introduced the world to one potential young recruit – at least once he has recovered from a shocking Millwall performance!, as Kate Tweeted: "He's actually not that glad this morning after his team's shocking performance last night! But still fully appreciative of the meaning of #GLAD2020 Future of the lifting industry." An even younger potential recruit made her father and LEEA CEO very proud.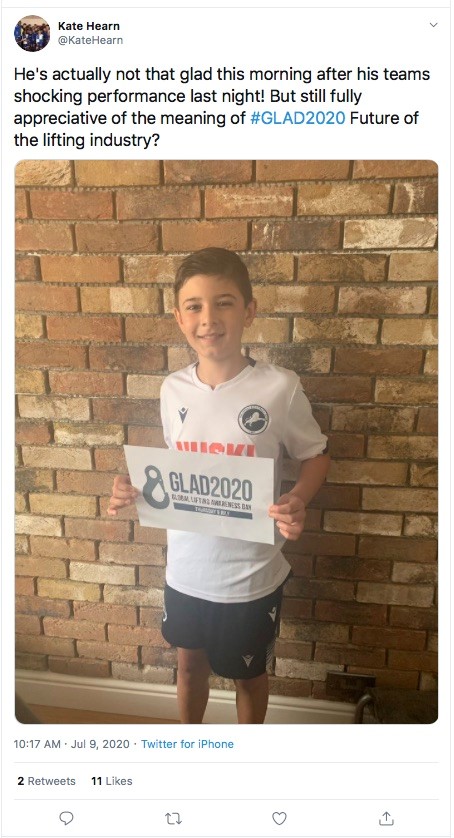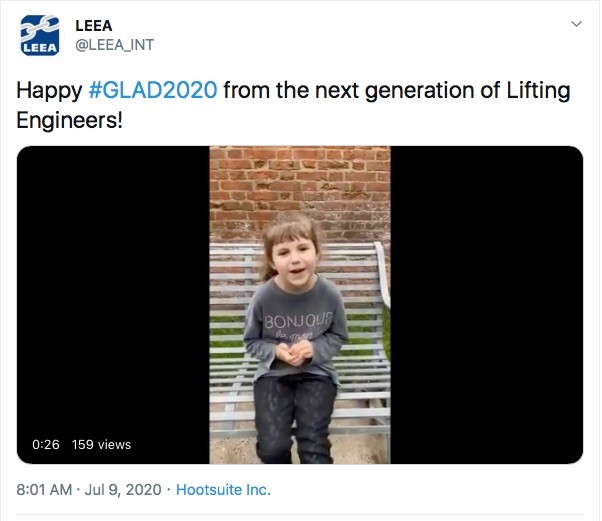 He summed up the day with a few words of wisdom of his own. "I'm really glad to be working in the industry for the association. It's a brilliant team of people who are so committed to doing the right thing for the industry and that is to keep pushing standards, to make it sustainable right now but also for the future. As I look at social media today it's clear many parts of the industry share these passions and commitments and I'm so grateful to everyone who has taken their time to post or make a video. I know this is not the ideal time but here we are – this is evidence of our brilliance and I salute you for it."
Ross Moloney concluded: "As we move forward we will gather feedback on the day, but we see this as something that LEEA will get behind on an annual basis to celebrate and promote our industry and to keep it at the forefront of our end users, stakeholders and politicians."